Survive to Thrive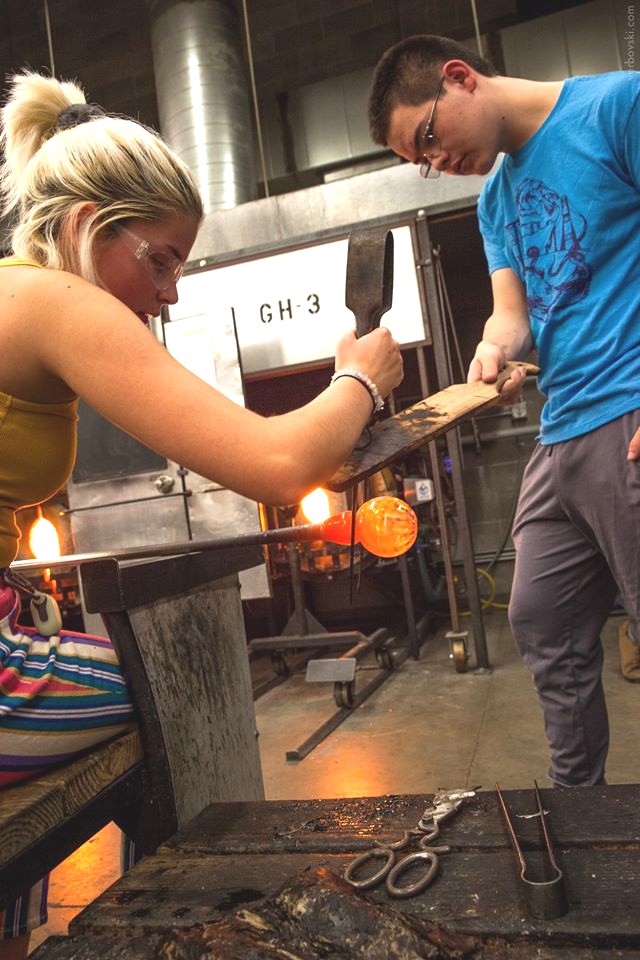 At Hilltop Artists, we are doing our part to stay home and healthy and to find creative ways to be here for students and staff.
Each year, Hilltop Artists supports over 650 youth from diverse economic and educational backgrounds in reaching better futures through the transformative aspects of glass art.
We are essential for the well-being of our students, some of whom have been with us for up to eight years and consider Hilltop Artists to be family.
Our Virtual Community
Staff is hard at work connecting with youth to encourage learning, inspire creativity, and build confidence that we will get through this together.
At the end of March, we launched weekly online activities for students which include: Zoom group check-ins and discussions, art and design activities, student and alumni artists live-streaming their creative process on Instagram, a growing collection of videos from instructors and well-known artists, and more.
Additionally, we provide students in need with essentials such as grocery gift cards.
See what our students are up to and join in here.  Student check-ins are private, but the opportunities to learn and connect are available for all.
This crisis shows us that our work is so much more than what can be done in a hot shop.
Hilltop Artists provides an outlet for creative thinking and discussion, a testing ground for artistic pursuits, and a safe and trusted space for sharing ideas, feelings, and needs – activities that sustain us through both wonderful and difficult times.
The means have changed, but the heart is the same.
Art and expression are vital for uplifting the spirit, and our programs are instrumental, as evidenced by our recent honor as the Washington Organization of the Year.
We may be physically distanced but will stay socially and creatively connected until our hot shops are once again roaring with fire.
How you can help
These are desperate, challenging times, but we have shared life-changing programs to a generation of Pierce County artists for 25 years and intend to be here to serve the next generation.
With your help we can continue providing vital programs and creating beautiful works of art for our community during and after this crisis.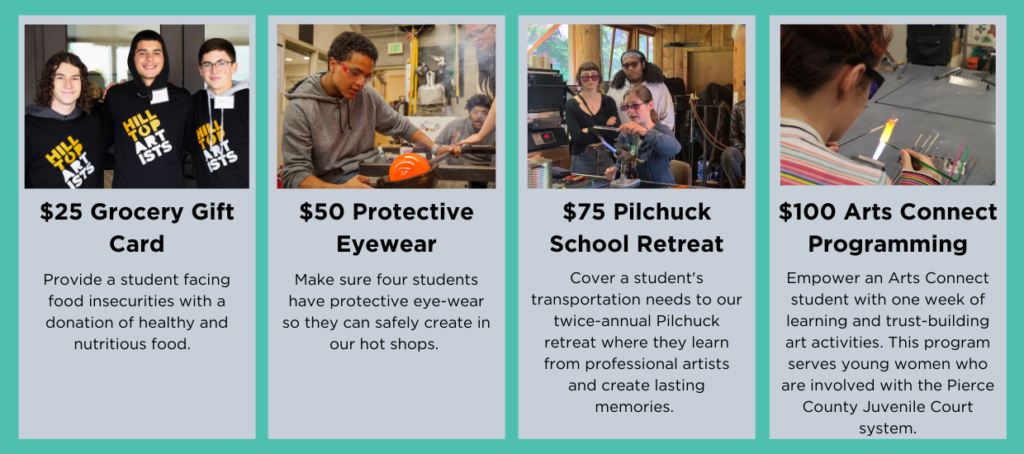 Your investment will sustain operations, care for our youth, and secure the survival of Hilltop Artists.
Please stand with our young artists and make a donation today.
Our goal:
To honor our 650+ students served each year, we hope to engage 650 donors and raise $200,000 by June 30, 2020.
We hope to reach this goal with the help of individual donors, foundations, and federal support. 
This urgent, short-term goal will maintain modest operations and employ staff who are key to offering support and instruction to our students through this crisis.