Hilltop Artists started in the summer of 1994 with just 20 students. Today, we serve over 650 students each year through six programs. Hilltop Artists' programs offer students, ages 12 to 20, the chance to explore the glass medium through glass fusion, mosaics, flameworking, and glassblowing. Hilltop Artists has hot shops at Jason Lee Middle School and Wilson High School, as well as a flameworking studio at Ford Middle School.
All of Hilltop Artists programs are tuition-free.
Li'l Board of Directors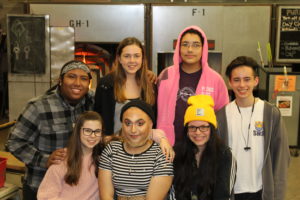 The self-titled Li'l Board of Directors is a group of students who meet regularly to empower youth to create change within Hilltop Artists and bridge the gap between the students, staff, and Board of Directors. The Hilltop Artists Li'l Board was formed to allow student artists the opportunity to help influence the direction of Hilltop Artists, organize community building activities, and create opportunities for the future. Members have a chance to exercise their leadership skills and one representative is elected to serve on Hilltop Artists' governing Board of Directors.

Hilltop Artists students involved in any of our programs are eligible to serve on the Li'l Board of Directors. To learn more, contact James Downey, jdowney@hilltopartists.org.
Daytime
Jason Lee Middle School
In-School Electives
Instructors teach four elective classes for 7th and 8th grade students at Jason Lee during the school year. In-School Elective students rotate through three stations: glassblowing, bead making, and glass fusion/mosaics. They gain arts knowledge through sequential skills building while also learning critical life skills, such as teamwork, creativity, and problem solving. 
Enrollment: 7th and 8th grade Jason Lee students who are at least 12 years of age are eligible to enroll in these daytime classes. Students can speak with their Jason Lee advisers to sign up.
---
Wilson High School
Career and Technical Education (CTE)
CTE elective courses in glassblowing are available to juniors and seniors at Wilson High School. These elective courses run throughout the school year and focus on the artistic and vocational aspects of glassblowing. Students gain essential post-secondary education and job-readiness knowledge. Our instructor at Wilson High School is also a graduate of Hilltop Artists programs!
Enrollment: 11th and 12th grade Wilson students are eligible to enroll in CTE. Students can speak with their Wilson counselor to sign up. Note: High school students from any school are eligible for After-School and Summer Glass Arts at Wilson. 
We have two semesters available for After-School enrollment at Jason Lee Middle School and Wilson High School. Generally, middle school students will attend at Jason Lee and high school students will attend at Wilson. There is no cost to the student for the class. Students must be at least 12 years of age to participate.
Jason Lee Middle School
The After-School program at Jason Lee Middle School meets Monday through Thursday from 3:00-4:30 pm. this program offers students a safe and positive place to be for out-of-school hours, as well as a place to further develop their skills in glass arts while connecting with trusted adults and working with advanced glass art students as their mentors.
Students have a chance to participate in glassblowing, flameworking/bead making, and glass fusion. Students also learn to work in teams, to build trust with their peers and instructors, to be part of a decision-making process, and to explore their own creativity and imagination!
---
Wilson High School
Monday through Thursday, from 2:30 until 4 pm, the After-School program at Wilson provides an opportunity for high school students to continue – or begin – their exploration of glass arts, much like After-School at Jason Lee. This program is a great way for students to bridge the time between engaging with glass in middle school and 11th grade when they are eligible for CTE classes at Wilson. Additionally, After-School at Wilson allows students to increase their skills to prepare to join Team Production, our evening program for advanced glass art students held at Jason Lee.
---
Ford Middle School
After-School at Ford Middle School was designed to extend our work to Franklin Pierce School District (FPSD), which serves a low-income area similar to the Hilltop neighborhood. After FPSD requested help retaining students and improving attendance, we partnered with United Way to create a bead studio at Ford, staffed with a Hilltop Artists instructor who is also a graduate of Hilltop Artists programs. Students who gain expertise in bead making at Ford are able to go on to join our Team Production.
Enrollment: If you are interested in signing up for After-School bead making, please contact Ford Middle School.
Team Production is our intensive program for youth, ages 14-20, who have been identified in our other programs as advanced students.  Team Production goes year-round: during the school year, students participate Monday through Friday in the evenings at Jason Lee Middle School; in the summer, Team Production takes place during the day at Wilson High School.
Team Production students create glass art for commissions – such as the Governor's Arts and Heritage Awards and Tacoma City of Destiny Awards – and for sale in our gallery and at Hilltop Artists events.  The stunning centerpieces featured at our signature fundraiser, the Better Futures Luncheon, are made by Team Production students during a week-long Visiting Artist Residency at Museum of Glass each summer.
Team Production students receive an incentive scholarship for their work that accrues at an hourly rate and is tied to additional requirements: academic enrollment, performance, attendance, and teamwork. All Team Production students are required to create a high school or post education plan for which our Outreach Manager provides resources and support.
Team Production students also have many leadership opportunities available to them.  They engage in service-learning projects and act as Hilltop Artists ambassadors at our events and in the community. We involve our youth in challenging creative work while ensuring they are able to stay in school and graduate and are connected to needed services, like housing, medical, and job search assistance.
To learn more, contact Jessica Hogan, Jhogan@hilltopartists.org.

Opportunities for Team Production Students
Our Summer Glass Arts classes are offered in three 2-week sessions and are open to students from any Tacoma middle school or high school. They provide a great opportunity for students who are unable to participate in our Daytime or After-School programs. 
For Summer Glass Arts at Jason Lee Middle School, classes are offered in glassblowing, bead making, and glass fusion. The students at this location are primarily middle school students (students must be at least 12 years old) but high school students will be considered on a case-by-case basis.
Class options at Wilson High School include glassblowing and bead making, and are open to students in grades 9-12.  
Click this link for more details about dates, times, course descriptions, and more.
Arts Connect is Hilltop Artists' community-based program for girls who are involved with the Pierce County Juvenile Court – either through probation and Diversion, or in foster care through the Pierce County Dependency Program. Serving girls ages 11 to 19, Arts Connect consists of two concurrent 10-week sessions that take place quarterly.  Each quarter, the students explore a new medium, such as glass fusion, printmaking, glassblowing, and photography. A team of adults, including professional artists, leads these weekly, three-hour classes at community sites, with support from probation officers, CASAs (Court Appointed Special Advocates), and volunteers.
Hands-on projects are generated from group discussions and writing activities about identity, society, and healthy lifestyles. A family-style dinner is served and girls can arrive early for snack, homework help, or to talk with mentors about the week's ups and downs.

The program teaches art while addressing other issues critical to success of each girl: teamwork and collaboration, positive social interactions, the ability to reflect and express themselves, the ability to trust in adults and other girls, leadership development, and communication. Arts Connect participants also engage in a service/philanthropy project each session, which extends their awareness beyond themselves into their community.
Our Outreach Program is a critical component for achieving our mission to connect youth to better futures. Our Outreach Program is available for ALL students in every Hilltop Artists program. Outreach provides in-depth, individualized services, referrals, support and advocacy for students and their families. We do this with respect for the diversity of our students and their families, a lens of equity, and an understanding of trauma-informed care. The Outreach Program partners with community organizations for referrals to their services as well as recruiting their clients who could benefit from Hilltop Artists programs. 
Outreach focuses on:
• BASIC NEEDS: housing / food / clothing /hygiene
• HEALTH: medical, dental, mental health, drug counseling, vision
• EDUCATION: attendance, graduation, post-secondary education, financial literacy
For more information about Hilltop Artists' Outreach Program, please contact Kathy Anderson, Outreach Manager, at (253) 571-7739 or kanderson@hilltopartists.org.