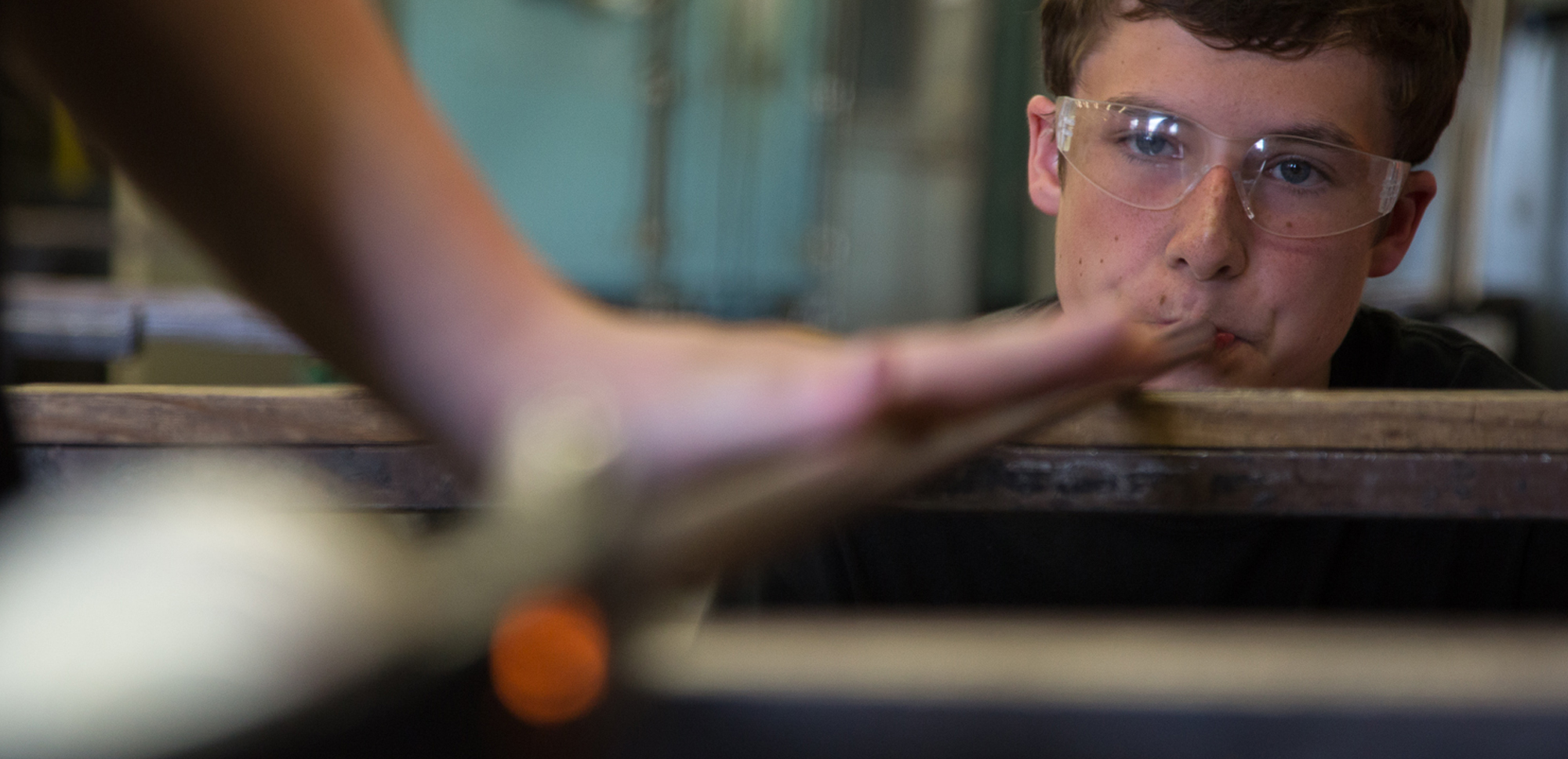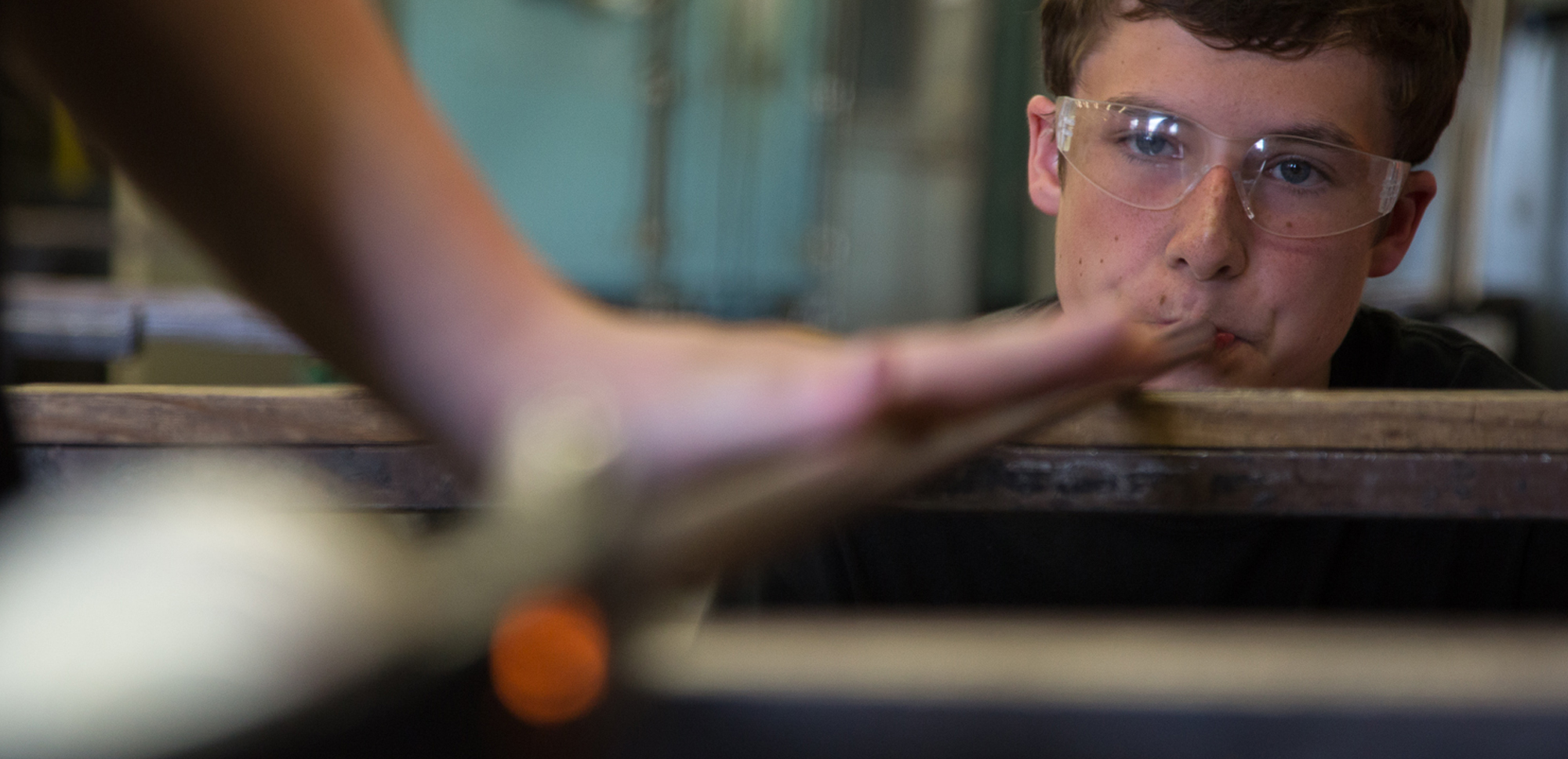 Hilltop Artists started in the summer of 1994 with just 20 students. Today, Hilltop Artists serves over 650 students each year through six programs. Ages 12 to 20, Hilltop Artists students have the chance to explore the glass medium through fusion, mosaics, flameworking, and glassblowing. Hilltop Artists has hot shops at Jason Lee Middle School and Wilson High School, as well as a flameworking studio at Ford Middle School. All of Hilltop Artists programs are tuition-free.
Read more about the various programs below and follow this link to learn how and when to apply.
In-School Electives at Jason Lee Middle School
Instructors teach four elective classes for 7th and 8thgrade students at Jason Lee during the school year. Students in In-School Electives rotate through three stations: glassblowing, bead making, and fusing/mosaics. They gain arts knowledge through sequential skills building while learning core habits of mind that are transferable to other subjects and life pursuits.
---
After-School at Jason Lee Middle School
Monday through Thursday, from 3 pm til 4:30 pm, students, ages 12-14, engage in glassblowing, bead making, and fusing/mosaics in this program in the Jason Lee hot shop. After-School offers students a safe and positive place to be after school hours, as well as a place to further develop their skills in glass arts while connecting with trusted adults and working with advanced glass art students as their mentors. Our Outreach Manager works with After-School students and their guardians to provide wrap-around services to help connect families to critical resources such as access to housing, food, school supplies, medical or dental care, and grief counseling.
---
Summer Glass Arts Programs
Our Summer Glass Arts Programs are open to students in middle school and high school. This is a great opportunity for students who are unable to participate in our Daytime or After-School programs. Additionally, a number of spaces in this program are held for students from community organizations that serve homeless and at-risk children and families. As with all our programs, we work to support students' overall development and we want to make sure we are serving those most in need of positive interventions and activities that advance the discovery of their innate creativity and hone their decision-making and team-building skills. Applications for our 2018 Summer Programs will be available beginning May 1st.
---
Team Production
Team Production is our intensive program for youth, ages 14-20, who have been identified in our other programs as advanced students.  Team Production students participate Monday through Friday evenings during the school year. Students create glass art for commissions – such as the Governor's Arts and Heritage Awards and Tacoma City of Destiny Awards – and for sale in our gallery and at Hilltop Artists events. Team Production students become Hilltop Artists ambassadors by helping run our glass sales, helping host our annual luncheon, and representing the organization at community events. All Production students are required to create a high school or post education plan for which our Outreach Manager provides resources and support. Team Production students also engage in service-learning projects, such as cleaning the neighborhood. We engage these youth in challenging creative work while ensuring they are able to stay in school and graduate and are connected to needed services, like housing, medical, and job search assistance.
Career and Technical Education (CTE) at Wilson High School
This program was created in part to give students who engaged in glass arts in middle school an opportunity to continue building their technical and creative skills during the school day. Students participate in our Wilson After-School program during 9th and 10th grades, and in 11th and 12th grades can participate in CTE classes. These elective courses run throughout the school year and focus on the artistic and vocational aspects of glassblowing. Students gain essential post-secondary education and job-readiness knowledge. Our instructor at Wilson High School is also a graduate of Hilltop Artists programs!
---
After-School at Wilson High School
Monday through Thursday, from 2:30 until 4pm, the After-School program at Wilson provides an opportunity for high school students to continue – or begin – their exploration of glass arts, much like After-School at Jason Lee. This program is a great way for students to bridge the time between engaging with glass in middle school and 11th grade, when they are eligible for CTE classes at Wilson. Additionally, After-School at Wilson allows students to increase their skills to prepare to join Team Production, our evening program for advanced glass arts students held at Jason Lee.
---
After-School Bead Making at Ford Middle School
After-School at Ford Middle School was designed to extend our work to Franklin Pierce School District (FPSD), which serves a low-income area similar to the Hilltop neighborhood. After FPSD requested help retaining students and improving attendance, we partnered with United Way to create a bead studio at Ford, staffed with a Hilltop Artists instructor who is also a graduate of Hilltop Artists programs. Students who gain expertise in bead making at Ford are able to go on to join our Team Production.
---
Arts Connect
Our year-round program for girls on probation and diversion, in partnership with Pierce County Juvenile Court, Arts Connect serves girls, ages 11-19, engaging them in a new art form each quarter, such as glass fusing, printmaking, glassblowing, and photography. The program teaches art while addressing other issues critical to success of each girl: teamwork and collaboration, positive social interactions, the ability to reflect and express themselves, the ability to trust in adults and other girls, leadership development, and communication. Arts Connect participants also engage in a service/philanthropy project each session, which extends their awareness beyond themselves into their community.