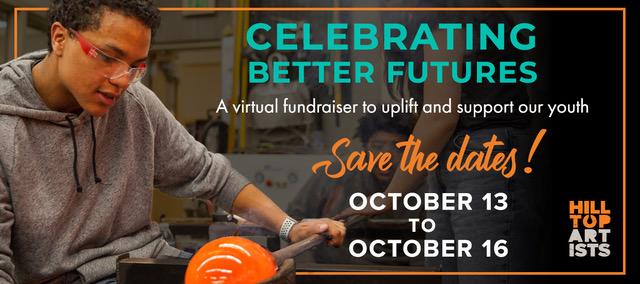 2020 Table Captain Portal
You are an important part of our students' success. As a Table Captain for the 2020 Better Futures Celebration Week your support and advocacy give young people access to the resources they need to overcome barriers to social and academic success.
This Table Captain Portal is just for you!
We appreciate your special commitment to this virtual celebration, and we want you to have all the support you need to be a successful Table Captain.
Have questions?  Need help?
Email Monique Simkova at msimkova@hilltopartists.org
More information to come but for now, mark your calendars for these important dates!
October 13 Auction opens at 10 am
October 13 Lunchtime Kickoff over Zoom from 12-1 pm
October 16 Auction closes at 8 pm
October 16 Table Captain Watch Party (Organized by Individual Table Captains)
October 22 Wrap Party Happy Hour with Trivia and Cocktails for donors
We are so grateful to our sponsors. They make it possible for every dollar given at the Better Futures Celebration Week to go directly back to serving our students. Find out about our exciting sponsorship opportunities here, we also have annual sponsorship options to partner throughout the year.
We are accepting new sponsors for the 2020 Better Futures Celebration Week. If you or your company are interested in sponsoring, please contact Monique Simkova by email at msimkova@hilltopartists.org
Last Year's 2019 Table Captains
We love our Table Captains! We couldn't do it without you – seriously!! Thank you for being such amazing advocates and supporters of our students. 
Our deepest thanks to our 2019 Table Captains:
Jp Avila
Morgan Bobabilla
Tj Bohl
Mary Boone
Sharon Chambers-Gordon
Dale Chihuly
Jeff Cortazzo
Oliva Cox
Kathy Creso
Nowell Dicarlo
Vanessa Donahue
Tafona Ervin
Jennie Griek
Therese Hammill
Maria Harlow
Jodi Herchold
Jennifer Hernandez
Lori Hess
Liz Jacobsen
Jasmyn Jefferson
Winnie Johnson
Kim Keith
Susan Keith
Julie Lancour
Mara Loveday
Terri Mann
Renee Martin
Kate Nelson
Stephanie Nicklaus
Peggy Nixon
Trish Pereira
Krista Perez
Sarah Rumbaugh
Kathy Smith
Naomi Strom-Avila
Kitty-Ann van Doorninck
LaTasha Wortham
Sallie Zimmer