Together, we can connect students to better futures!
You are an important part of our students' success. As a Table Captain for the 2019 Better Futures Luncheon, your support and advocacy give young people access to the resources they need to overcome barriers to social and academic success. This Table Captain Portal is just for you! We appreciate your special commitment for this event, and we want you to have all the support you need to be a successful Table Captain.
Have questions?  Need help?
Please contact Shawn Cole, our 2019 Table Captain Chair!
For the fourth year in a row, Shawn Cole has volunteered to serve as our Table Captain Chair. Thank you, Shawn! She currently works for D'Annunzio Consulting Group and brings to the position great event experience, including involvement in the Stadium High School auction for 7 years and an annual political fundraiser. Please contact her at tablecaptain@hilltopartists.org if you have any questions about your role as a table captain or the event in general.
Table Captain Dinner
The Table Captain PowerPoint will be presented at the Table Captain's Dinner on September 10th, 2019 from 5:30-6:15 pm.
It includes important details about the program, parking, and how to make your guests feel welcome.
Hilltop Artists
Better Futures Luncheon
Tuesday, October 8th, 2019
Check-in/Silent Auction: 10:30 AM
Program: 11:30 AM
Hotel Murano Bicentennial Pavilion
Tickets: $30 each/$300 for a table
If your guests are buying their own tickets, please send them the first link. If you are paying for your table on behalf of your guests, please use the second link.
Table Captain Responsibilities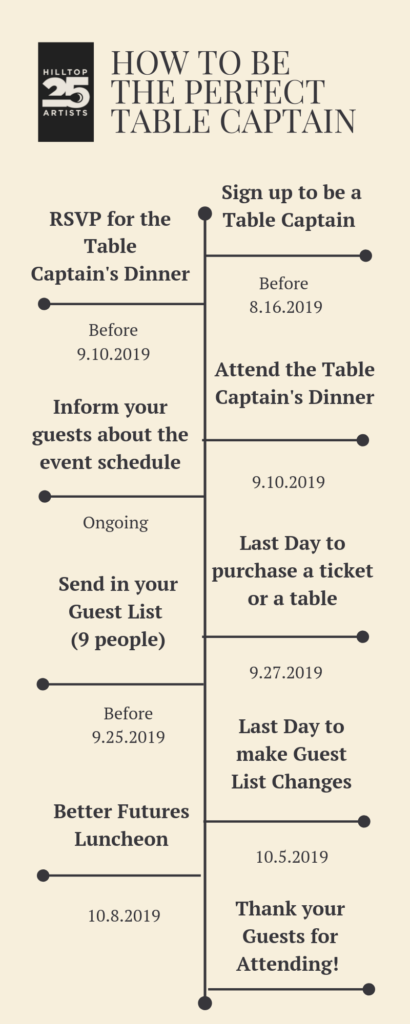 Fill a table of ten guests at the Hilltop Artists Better Futures Luncheon on Tuesday, October 8, 2019, at the Hotel Murano.
Provide your guest list, with names and email addresses, by Wednesday, September 25, 2019. Lists can be submitted through our online form or by email. Changes to guest lists will not be accepted day of. Deadline for changes October 5th. Deadline to purchase whole tables September 27th.
Communicate the event schedule to your guests, including information on parking, retail glass for sale, silent-auction centerpieces, and donation opportunities.  SAMPLE REMINDER EMAIL
Get involved in our mission by attending the Table Captain Dinner on September 10, 2019 at Jason Lee Middle School. This is a chance to talk to current Hilltop Artists students and learn firsthand how glass art has impacted their lives. Students will lead Table Captains in an art project, giving you a glimpse into what it's like to be a Hilltop Artist.
Be a Hilltop Artists ambassador during the Luncheon by welcoming guests, answering questions, and handing out pledge forms.
Lead by example. We ask you to thoughtfully consider making a gift to Hilltop Artists at the Luncheon.
We are so grateful to our sponsors. They make it possible for every dollar given at the Better Futures Luncheon to go directly back to serving our students.
We are accepting new sponsors for the 2019 Better Futures Luncheon. If you or your company are interested in sponsoring the Luncheon, please contact Monique Simkova at 253-571-7670 or by email.
We love our Table Captains! We couldn't do it without you – seriously!! Thank you for being such amazing advocates and supporters of our students. 
Our deepest thanks to our 2019 Table Captains:
Jp Avila
Morgan Bobabilla
Tj Bohl
Mary Boone
Sharon Chambers-Gordon
Dale Chihuly
Jeff Cortazzo
Oliva Cox
Kathy Creso
Nowell Dicarlo
Vanessa Donahue
Tafona Ervin
Jennie Griek
Therese Hammill
Maria Harlow
Jodi Herchold
Jennifer Hernandez
Lori Hess
Liz Jacobsen
Jasmyn Jefferson
Winnie Johnson
Kim Keith
Susan Keith
Julie Lancour
Mara Loveday
Terri Mann
Renee Martin
Kate Nelson
Stephanie Nicklaus
Peggy Nixon
Trish Pereira
Krista Perez
Sarah Rumbaugh
Kathy Smith
Naomi Strom-Avila
Kitty-Ann van Doorninck
LaTasha Wortham
Sallie Zimmer