Summer Glass Arts Programs
Our planning regarding the Covid-19 Coronavirus pandemic: we anticipate offering programs this summer, and that we will open the summer classes application process in Mid-May.
We are postponing publishing final details and schedules in order to give our staff enough time to prepare based on safety and changing timelines. We appreciate your patience.
Find organizational updates regarding Covid-19 here. Find virtual programming opportunities here.
---
Summer Glass Arts Programs take place at both Jason Lee Middle School and Wilson High School. This is the perfect program to keep your creative student engaged during the summer months.
Hilltop Artists believes that promoting diversity is vital to our mission of "using glass art to connect young people from diverse cultural and economic backgrounds to better futures." We work through our mission to center engagement and partnership with underrepresented and marginalized people and groups, and to bring diversity into all facets of our organization – staff and board, students and families, volunteers and community partners.
We define diversity broadly to include and extend beyond notions of race, national origin, gender, age, disability, sexual orientation, gender identity, and creative expression.
In reviewing applications to our programs, we seek students who share and uplift our values and will contribute to our dedication to diversity, equity, and inclusion. Applications by youth of all underrepresented groups are encouraged. All experience levels are encouraged to apply.
Summer Glass Arts are held at Jason Lee Middle School. Classes will be offered in glassblowing, bead-making. This program is focused on middle school students (students must be at least 12 years old) but high school students will be considered.
As part of the Tacoma Public Schools and USDA Summer Food Service Program, FREE LUNCH will be served in the school cafeteria Monday-Thursday (time TBD).
High School Summer Glass Arts will be held at Wilson High School. Sessions and classes will be offered in glassblowing and bead-making. This program is designed for students entering grades 9-12.
High School students interested in glass fusion should apply to the Jason Lee Middle School Glass Arts Program.
How to Apply
Applications will be available online and in paper form May 2020.
As an effort to accommodate as many students as possible, students are asked to pick only one session. Please indicate your preference on the application. You will be notified by phone or email of your student's placement in the program.
There is a materials fee — $100 for for each two-week session. However no student is ever turned away due to inability to pay. The fee will be waived if your student is eligible for free and reduced lunches at school and may be reduced or waived with request and approval from Hilltop Artists.
The last day of each session is a celebration of student work. Parents and guardians are invited and encouraged to attend.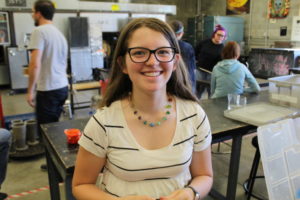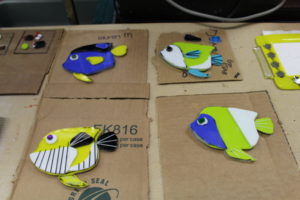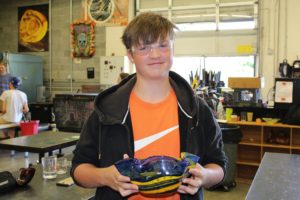 Summer Glass Arts Class Descriptions