It's not about the glass . . .
Greg Piercy has taught at Hilltop Artists for almost 24 years. From the beginning, he recognized that there was something bigger happening at Hilltop Artists.
Progress towards $25,000 matching goal:
$26,558 raised towards $25,000 goal:
106%
. . . it's about the kids!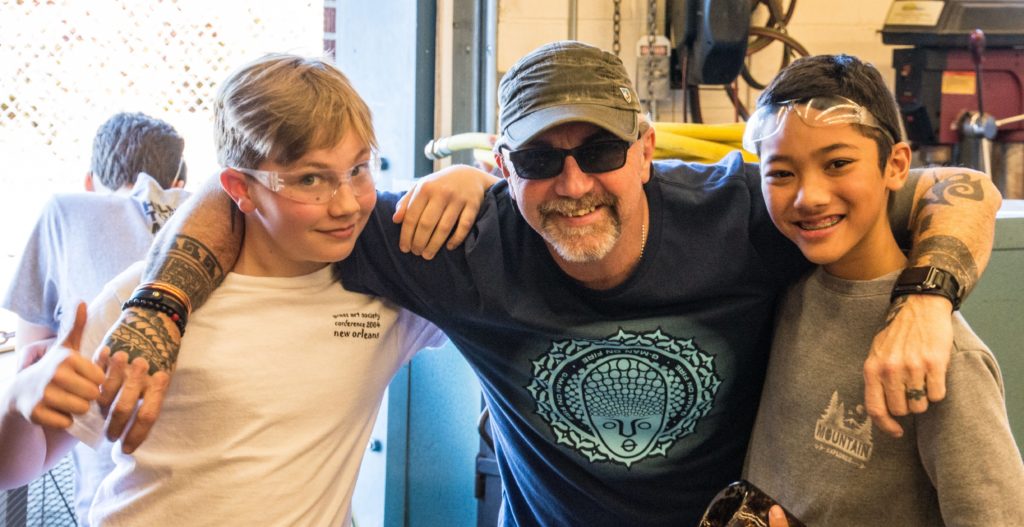 "It's not about the glass, it's about the kids."
Hilltop Artists instructor Greg Piercy has oft repeated this mantra over the last two decades.
When Greg started at Hilltop Artists almost 24 years ago, he quickly recognized that there was a deeper transformation happening beyond the technical skills learned.
Greg's own son, Jacob, turned 12 last year and Greg encouraged him to join Summer Glass Arts because he knew he would also benefit.
Jacob was game to give it a try, but he was surprised that he wanted to keep going after that initial class. Just like so many who had come before him, he was hooked.
Greg isn't Jacob's main teacher, but when they do get to work together, "I love it." says Jacob. "He definitely knows what he's doing and persuades you to keep going."
Jacob shares that, in addition to perseverance, he is also learning time management and how to be more careful.
Greg gives Jacob the same encouragement to reach new heights that he has provided to thousands of students over the years – including multiple parent-child pairs, sibling groups, cousins, and even six of his fellow staff members!
Our students often describe Hilltop Artists as a kind of second family, where you don't have to be Greg Piercy's son to benefit from his wisdom and feel cared for.
When you donate to Hilltop Artists, you create exciting and bright futures for our young people.