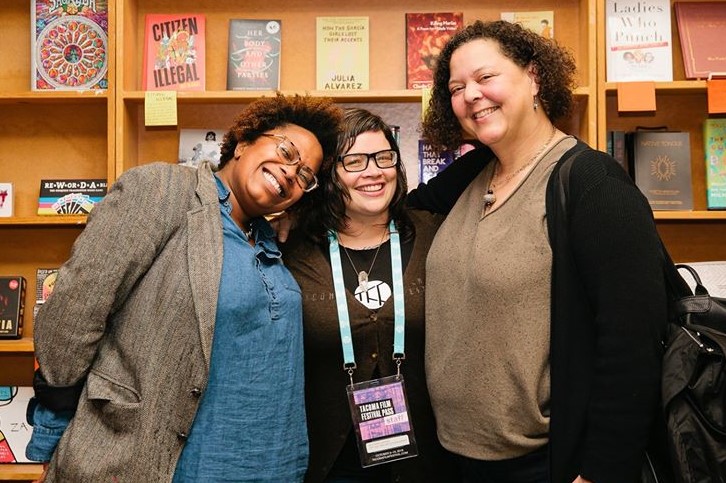 Meet Katy, our new Deputy Director
[Pictured above middle, Katy Evans poses with Alison (left) and Kimberly Keith (right), during the 2019 Tacoma Film Festival.]
Hilltop Artists is happy to welcome Katy Evans as our new Deputy Director. Katy started October 28, and as Deputy Director she supports fundraising and communications work, administrative operations, and as Executive Director Kimberly Keith puts it, "Kim wrangling."
Katy is a long time advocate and champion of local artists and creative entrepreneurs, describing her efforts as "working and playing for a just and creative Tacoma."
Before joining the Hilltop Artists team, Katy spent the last four years as the Assistant Executive Director of Education and Engagement at The Grand Cinema. She's the current volunteer board president of the W.W. Seymour Botanical Conservatory Foundation, a member of the Arts and Heritage Advisory Council for Metro Parks Tacoma, and an American Leadership Forum Senior Fellow of Class XXV.
Katy is extremely thrilled to be a part of Hilltop Artists. In her first month, she has been especially inspired by the commitment from the staff as they support the students, and by the talent, enthusiasm, and creativity of the Hilltop Artists youth. Says Katy:
"I get excited every time I walk into the Hot Shop; I see myself in the Jason Lee daytime students who, like me, are just beginning their creative journeys with Hilltop Artists.
"And then, throughout each day, I get to meet youth as their talents, collaboration, and expression mature. Every day, I get to see the mission in action. I honestly have never experienced anything quite like it. Hilltop is an exceptional, incredible organization. It is an honor to be a part of the work!"
When Katy's not working in the administrative offices in the Jason Lee Hot Shop, you can find her at the movies, in the woods, taking long walks around Tacoma, or enjoying a delicious meal at en Rama, the downtown bar her partner manages.
She looks forward to connecting with the Hilltop Artists community of support. Want to learn more and meet Katy? Find her contact details here.