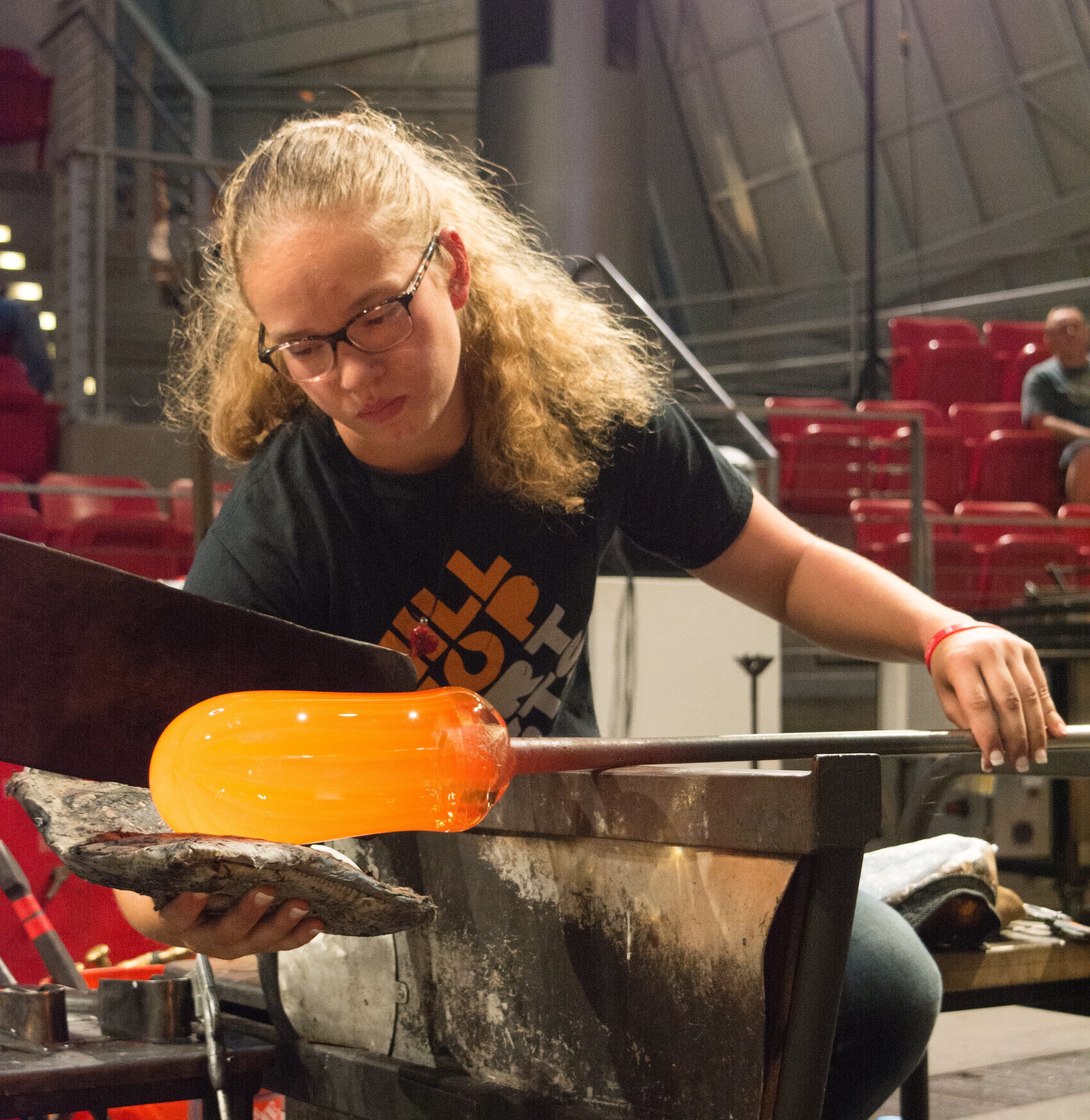 Nikki first found her passion for glassblowing in classes offered at Tacoma Glassblowing Studio. It was an activity that she enjoyed that didn't put her joints at risk of injury like the sports she had been playing. She needed a break from sports but wanted to continue with some physical activity and to participate on a team.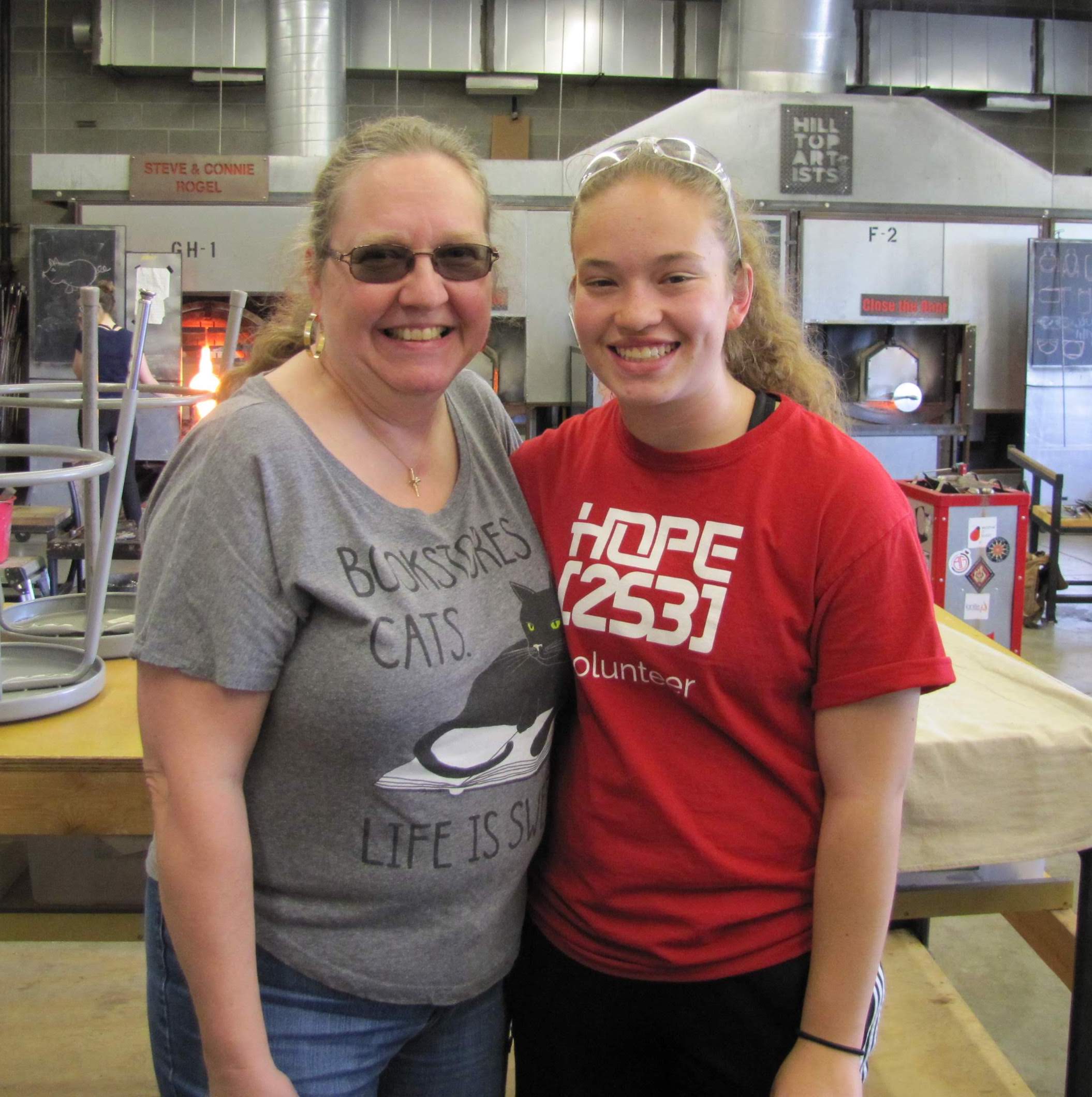 While taking classes at Tacoma Glassblowing Studio she heard about the programs offered by Hilltop Artists. At first, Nikki thought she wasn't eligible for any of our programs. Thankfully, she reached out to Jessica, who manages our Production and After School programs, and learned that it did not matter where she went to school. Nikki signed up right away.
Nikki has been a member of Team Production for two years now. She enjoys working with the other Production students and appreciates the support and encouragement provided by staff. She reflects on how having a common experience allows you to connect with people you might not otherwise interact with. At Hilltop Artists, glassblowing has been that common thread that helps students relate to one another.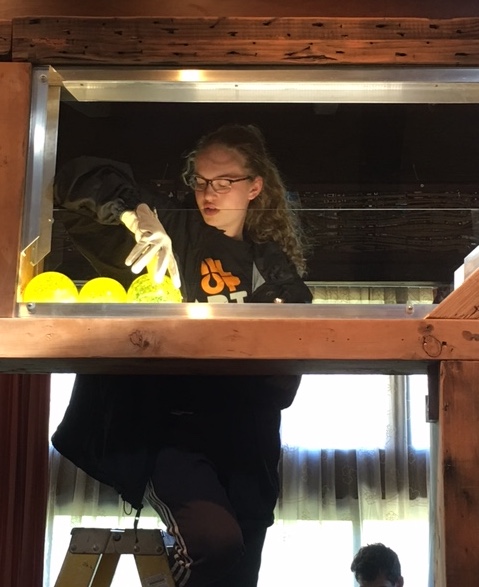 Being a Hilltop Artist has also allowed Nikki to take advantage of many unique and educational opportunities:
Through our partnership with Pilchuck Glass School, she has had the opportunity to study glassblowing under well-known artists at their campus in Stanwood, WA.
In 2017, she helped install a glass art piece at Idaho BaseCamp. She enjoyed being there so much that she jumped at the opportunity to be a counselor at the camp this past summer and helped teach a glassblowing class at the camp.
She recently served as a mentor for the young women in our Arts Connect program, providing assistance and instruction as they learned glassblowing.
In August, she travelled with one of our staff to the Corning Museum of Glass in New York for their week-long Expanding Horizons program. It was a once in a lifetime experience, where she was able to work in a different glass studio and learn new techniques. She even tried out left-handed glassblowing, which required thinking about the process in a different way.
As she enters her senior year of high school, Nikki looks forward to continuing in Hilltop Artists' programs (and to avoiding sports injuries!). After graduating, she plans to go to college to get her Masters in Fine Arts in glass and also major in business. She hopes to work or teach in a hot shop in the future.
To the supporters of Hilltop Artists, Nikki wants you to know every little bit really helps, and she appreciates your thoughtful gifts. "Without you, we wouldn't be able to be in the hot shop everyday – which really affects people's lives in a positive way. It's a community that we know supports us."