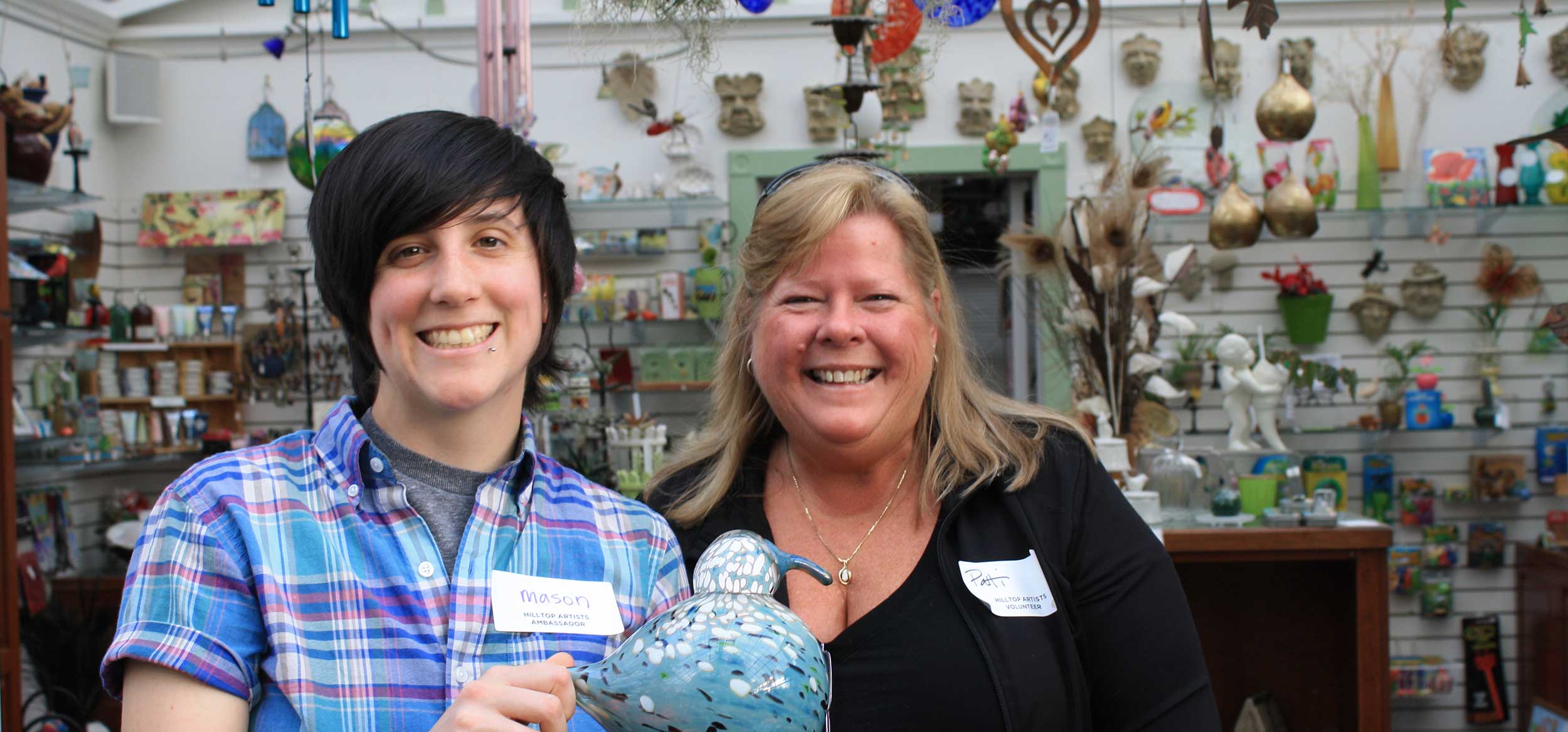 Hilltop Artists is a community that believes in the power of volunteering to enrich the lives of our youth and the world around us. We were founded through the efforts of dedicated volunteers, and volunteers continue to play a vital role working and collaborating alongside staff members to reach our goals. We love our volunteers and appreciate all the time and energy they dedicate to Hilltop Artists.
We always welcome new volunteers to our team. If you have any questions, would like to be added to our volunteer email list, or want to learn more, please contact Monique Simkova through email, msimkova@hilltopartists.org, or by phone at 253.571.7670.
Can I help at events?
We have several events throughout the year, ranging from glass sales and art installations to our annual luncheon. We are always looking for volunteers to help make these events happen. Some tasks require interacting with a lot of people, like being a Hilltop Artists Ambassador, while others are more solitary, like helping prepare for an event. We'll definitely find the volunteer role for you!
How else can I help?
We have a range of volunteer opportunities in our office, so if you enjoy organizing, like to work with databases, or simply prefer a volunteer position that's more ongoing, we've got a variety of opportunities for you to help us out!
Opportunities in our office include database clean-up, helping with bulk mailings, and post-event data entry. If you're more business-oriented, we rely on volunteers for our gallery hours one evening a week where you'll get to work with students processing glass sales.
If you like to cook, we're always looking for volunteers to make dinner once a month for the young women in our Arts Connect program or the students on Team Production.
Do you have experience in glassblowing, lampworking, bead making, or jewelry making? We're occasionally looking for volunteer instructor assistants in the hot shop!
Our volunteer opportunities like these that don't have a set timeline are not listed in the calendar above. Please contact Ellen for more information on these volunteer positions.
What's in it for me?
Our volunteers are investing in the future of our students and Hilltop Artists. You are supporting students' development of artistic and life skills, and spending time with creative students and awesome adults!
And did we mention the chance to watch youth turn hot molten glass into beautiful works of art?
Volunteers and prospective volunteers are welcome to join us at our annual Volunteer Appreciation night in May. Check out this link to see a slideshow from the 2017 Volunteer Appreciation party.
How do I sign up?
Our upcoming volunteer opportunities and sign-ups are posted online here. New volunteers must also fill out a Hilltop Artists volunteer application as well as read and understand the Hilltop Artists volunteer handbook. When required, volunteers must complete Washington State Criminal History Background Check.
If you have any questions, concerns, or ideas about volunteering at Hilltop Artists, don't hesitate to contact Monique!