(Former) Student Story – Sam
Sam has been part of the Hilltop Artists family for 14 years — starting out as a student in our Daytime program at Jason Lee Middle School and recently hired as our 3rd Daytime Teacher when we added a new position this year.
Growing up, home life was hard for Sam, but in the midst of the chaos she found a refuge – the hot shop! After starting as a Daytime student in 7th grade at Jason Lee Middle School, she fell in love with glass art and started signing up for every program offered. "I did Daytime, then After School and Summer school. I started Team Production when I was 15." Family life continued to be difficult, but Hilltop Artists remained a constant for Sam. "This was an outlet for me and the hot shop felt like home."
We were lucky enough to keep Sam around after her high school graduation when she was hired as the instructor for our After School bead program at Ford Middle School. Later she expanded her role and was hired as the bead instructor for After School and Team Production too.
This year, thanks to generous donors, we were able to add a 3rd Teaching Instructor position to our Daytime program at Jason Lee Middle School. At a reception during Hilltop Artists Day in April 2017, donors raised their paddles and fully funded this additional teaching position for the first year! Sam was the obvious choice for the new position and we are already seeing a difference in our classes and students!
Having an additional teaching instructor means each student gets more individual attention and mentorship. This not only makes the classroom safer, it also allows instructors to get to know students more personally and address their individual social and academic needs.
Sam added some new bead projects to the curriculum and students are challenging themselves with new skills to create beads shaped like penguins and turtles. She is hoping to start working on non-round beads and other advanced flameworking techniques in the spring semester.
Changes are rippling out beyond the bead table — a project using the diamond saw has been added for the fused glass students and large beautiful platters have been coming out of the annealer almost daily. Jason, another one of our Daytime instructors, noted that it wouldn't have been possible for him to work with the students on this challenging project and give demos about the advanced equipment without the addition of another teaching instructor.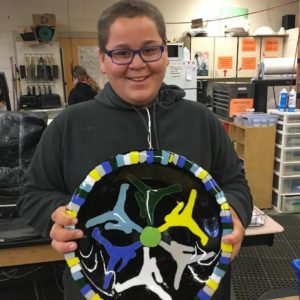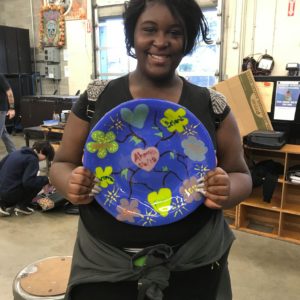 Students aren't the only one benefiting from the recent changes to the Daytime program. "I have come full circle and I love being able to help students the same way Hilltop Artists helped me," Sam commented. "I love seeing how excited [the students] get when they finish a new project. I am not sure where I would be without Hilltop Artists and the opportunity to help others the way I was helped is really amazing."