Tacoma Arts Month Studio Tour
Date

Saturday
Oct 13, 2018
Location
Jason Lee Middle School
Time
11:00am - 5:00pm

Hilltop Artists is proud to be a part of the Tacoma Arts Month Studio Tour! Our Jason Lee Hot Shop will be open for the public on the first day of the tour to stop in to watch students create glass art. Names will  be drawn for a chance to learn from a Hilltop Artists student how to blow a glass paperweight or make a bead (must be 12 years or older and wearing closed toed shoes with no flammable clothes to be eligible for drawing). Our gallery will also be open for the sale of student-made glass art (including pumpkins!).
About the Studio Tour:  For one weekend, you are invited inside the working studios of dozens of local artists to learn about the artistic process, ask questions, and purchase one-of-a-kind creations. Plus, you can even win some fabulous items hand-crafted by a selection of artists on the tour just for getting your Studio Tour Passport stamped at each studio address you visit. All studios will feature demonstrations or will have hands-on activities for visitors. It's family friendly and free!
Check out TacomaArtsMonth.com for the full list of artists, schedule, your Tacoma Studio Tour Passport, and an interactive map where you can plot your own custom tour course. Remember, Hilltop Artists will only be open on Saturday, the 13th for the Studio Tour.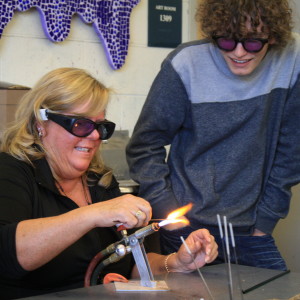 ---
Tacoma Arts Month is an annual celebration of arts and culture in Tacoma, featuring several hundred community-produced arts events, exhibits, and activities that help shine a light on all that Tacoma has to offer.  Visit the Tacoma Arts Month website for information about the hundreds of arts events happening all month long!