Our Dreams: A Mixed Media Exhibit
Date

Saturday
Apr 14, 2018 -
Sunday
Jun 17, 2018
Location
W.W. Seymour Botanical Conservatory
Time
All Day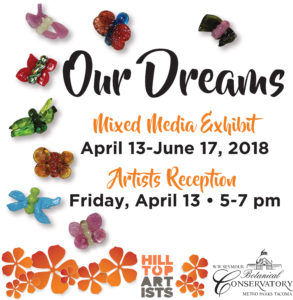 Our Dreams is a mixed media exhibition featuring artwork made by the young women of Hilltop Artists' Arts Connect Program. Arts Connect participants explore the theme of dreams in their artwork using glass, paint, paper, writing and sound.
The full exhibit will be on display from April 13 to June 17th. There is a suggested donation of $3 for admission to the Conservatory. Selected works will be available for purchase through our online catalog.
Visit the Our Dreams webpage for more information about the exhibit and to purchase art.
Visit the Conservatory website for more information about hours, admission, directions, and parking.