Bio for Dr. Kimberly Keith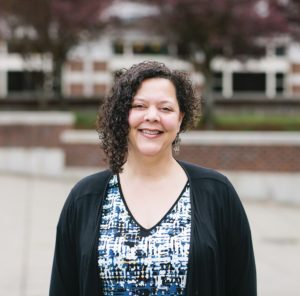 Kimberly Keith was born and raised on the Hilltop in Tacoma and once upon a time she was a student at Jason Lee Junior High (now Middle School) – so she is very excited to step into the role of Executive Director at Hilltop Artists and give back to a school and a community that has given so much to her. After graduating from Stadium – go Tigers! – she earned a BA from The Evergreen State College with a focus on art history and studio art. She began working at the Children's Museum of Seattle in 1992, developing and delivering educational programs, most specifically for at-risk youth and diverse audiences, who resided in public housing. She then moved to the Museum of Glass in 2001, where she developed the Remann Hall Women's Project (which was the origin point of Hilltop Artists' Arts Connect program) and several other education programs.
Kimberly went on to earn a Master of Non-Profit Leadership from Seattle University in 2004, moved to London in 2005, and in 2011 she earned her PhD in Sociology at Goldsmiths, University of London, researching how US and UK museum practitioners develop and engage diverse audiences in relation to disparate organizational cultures and strategic policies. As the first person in her immediate family to go to college, she took that opportunity seriously and pursued education to its fullest extent – which is a value she hopes to nurture in the youth at Hilltop Artists.
She is a Trustee on the board of Black Cultural Archives in the Brixton area of south London, and served on its capital project board to raise 7 million pounds to build the UK's first national Black heritage center, which opened in July of 2014.
She has curated many exhibitions of contemporary and archival photography, including Staying Power: Photographs of Black British Experience, 1950-1990s, which was the culminating activity of a seven-year collaborative project between Black Cultural Archives and the Victoria & Albert Museum.
Kimberly serves on the Bridge Builders Advocacy Group at Oasis Youth Center and is a weekly volunteer in Oasis' drop in program. She loves to travel– exploring museums from the Pergamon in Berlin to the Museum of the Antiquities in Cairo, checking out historic sites like the Parthenon in Athens and a Troglodyte home in Tataouine, Tunisia, and eating everything from haggis in Scotland to fresh Buffalo mozzarella in Italy to jellied eels in London. She enjoys walking on Ruston way with her English Bulldog, Lilly.