Our annual Better Futures Luncheon is an opportunity for you to be a force for positive change. Join us and bid on student-made centerpieces, hear directly from our students about the power of glass art and adult mentorship, and learn how you can help us connect our students to better futures.
Thanks to support from our community, we offer tuition-free, experiential arts learning in two dedicated hot shops to create powerful change and long-term outcomes in the lives of our youth and their families. Through our programs, partnerships, and youth advocacy, Hilltop Artists works with students to address barriers they face in achieving social and academic success.
2018 Student Speeches
At the 2018 Better Futures Luncheon, we heard from two students in our programs: Daria and Noah. Watch their speeches below.
We hope their stories inspire you as much as they inspired us! If you'd like to make a gift to support our programs, click below to make a gift.
Save the date for the 2019 Better Futures Luncheon
Tuesday, October 15th
Hotel Murano, Bicentennial Pavilion
2017 Student Speakers: Where are they now?
We are so grateful to all of our partners, supporters, sponsors, and volunteers who joined us at our 2017 Better Futures Luncheon to make our annual signature fundraiser a huge success. Your generous commitment to the well-being of our young people makes a difference in the lives of Hilltop Artists students. You deserve a standing ovation!
We had three student speakers share how they learned about leadership, personal growth, and confidence at Hilltop Artists. Hear their stories and learn more below.
Student Speaker: Cordell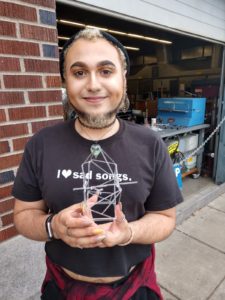 Between making glass art and serving on the Li'l Board of Directors, Cordell continues to spend a lot of time at Hilltop Artists. Cordell was nominated by his peers to be their representative on Hilltop Artists' Board. Cordell is proud of the work that the Li'l Board has been doing to develop bylaws and goals. They organized a raffle for the Spring Glass Sale in order to raise funds for new boro torch.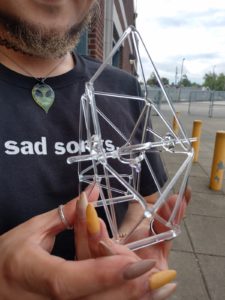 This specialized equipment allows the students to make detailed work with harder glass. They raised over $900 towards the equipment, so stay tuned as they continue to reach for their goal. Cordell was among the group of students who did a weekend retreat at Pilchuck Glass School in May. Their time at Pilchuck has inspired a growing interest in boro glass – whereas we only have one boro torch, Pilchuck has enough for a group of students to all work at once. As shown in his picture, Cordell has been working on glass cage work. The work in progress shown is swing for an air plant.
Student Speaker: La'Naya
La'Naya changed schools and is now enrolled at Challenger HS and is on track to be a graduating senior in June. She is still involved in Arts Connect as a student mentor. Her passion for singing continues and she is working on personal music projects. She is planning on attending Clover Park Tech to study nursing after she graduates from high school. The thing she is most looking forward to is graduating high school so she has more time to focus on things. She thought being the luncheon student speaker was an amazing opportunity. She was scared because it was her first time speaking in front of that many people, but everyone was so friendly and she would definitely do something like that again.
Student Speaker: Lindsey
Since the 2017 Better Futures Luncheon, Lindsey has been blowing glass at Hilltop Artists, going to school, and focusing on her future at either PLU or UPS! (She has yet to decide!) Lindsey looks forward to spending some time in Europe with her grandparents this summer and studying music next year. After speaking at the Luncheon, Lindsey continues to feel grateful to Hilltop Artists (and those who support it) for the opportunity to speak in that setting. Lindsey says it was a very humbling experience to be vulnerable in front of so many people and she enjoyed the opportunity to empower and liberate herself in front of so many people. Lindsey also says it was terrifying…but in a good way. Also…LINDSEY SAW HAMILTON!!!
Luncheon guests were so inspired by the student speakers that we had 62 people sign up for the newly unveiled Murrini Club. Created to recognize ongoing, monthly donors, Murrini Club members provide stable support for Hilltop Artists' tuition-free programming. Learn more about the Murrini Club and join today!
Not able to join us, but still want to support students like Cordell, La'Naya, and Lindsey? It's not too late! Your donation will help make more hopeful stories like theirs possible.
A BIG thank you to our 2018 Luncheon Sponsors!
Gaffer Level
Columbia Bank ● DaVita Healthcare Partners, Inc. ● Harborstone Credit Union ● Pacific Lutheran University ● Pierce County Juvenile Court ● Robert Half ● Tacoma Community College ● TAPCO Credit Union
In-Kind Sponsors
AVMS ● Hotel Murano ● Love by the Slice ● Magic Sandwich Makers ● Rotator Creative
If you or your company are interested sponsoring the 2018 Better Futures Luncheon, please contact Monique Simkova at 253-571-7670 or by email.