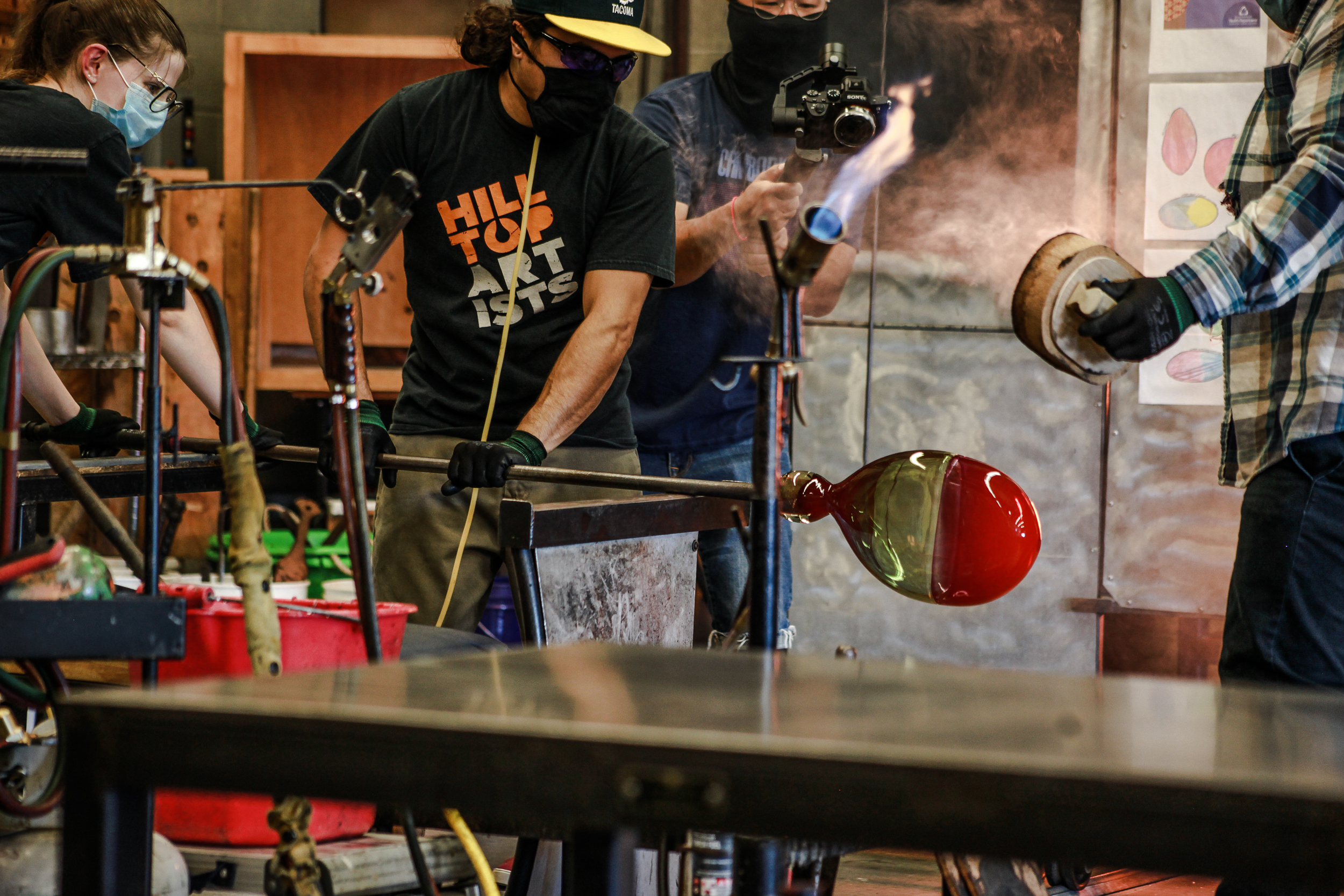 Apply for Hilltop Artists Fall 2020 After School Programs
Attention students and families!
Hilltop Artists' after-school glass arts program for the fall semester will begin on Friday October 23rd, and will meet twice a week: once virtually for check in and office hours on Tuesday or Wednesday and Fridays from 3 – 4 PM at Museum of Glass.
The Hilltop Artists' After-School at the Museum of Glass (1801 Dock St, Tacoma, WA 98402) will include watching glassblowing, gallery tours, take home art kits, and a weekly virtual office hours.
In addition to viewing glass art, students will learn to explore their own creativity and imagination!
There is currently no charge for the class. Below are the dates that we will be meeting in person at the Museum of Glass.
Fridays at Museum of Glass 3 – 4 PM: 10/23, 10/30, 11/6, 11/13, 11/20, No Class 11/27, 12/4, 12/11, 12/18
Wilson youth: Tuesday virtual office hours 2 – 2:30 PM
Jason Lee youth: Wednesday virtual oiffice hours 3- 4 PM: 10/28, 11/4, 11/18, 12/2, 12/9, 12/16
Due to safety procedures, space is extremely limited. Please fill out the application below and staff will follow up with next steps and instructions.
Before you apply:
There is an expectation that the students will be prompt, reliable, follow all safety and health procedures, and commit to attending every session.
Let us know if there are any medical or behavioral information we should know so we can best serve your student. Include this in on the medical section of the application.
We will work with you if you have scheduling conflicts, and planned absences can be scheduled. If transportation is an issue please notify staff. We may be able to provide public transportation passes.
It is important to complete the application as soon as possible. We will do our best to accommodate as many students as possible, but there is always a waiting list.
We will call or email by to let you know if your student is enrolled or on the waiting list.
Completing this application does not guarantee your student will be enrolled in the program.
---
–> Stay in the know and get updates from us: sign up now for remind.com by texting the message @428fb to the number 81010 <–
---
WHAT'S HAPPENING WITH HILLTOP ARTISTS HOT SHOPS NOW
Currently only staff, alumni, and advanced students 18 years + are working in our hot shops.
We're operating in small "pod" groups under a very strict schedule. We're practicing social distancing, have a rigorous cleaning schedule, take temperature checks at the door and require masks while in the shop.
This current production work is part of a new Hilltop Artists program: Alumni Team.
The members of the Alumni Team are advanced artists who work together to professionally create glass art such as pumpkins and ornaments. These artists earn a stipend at a higher rate than Team Production, AND earn hot shop time to create their own artwork.
If you want to learn more about Alumni Team, please email Jess.
Make sure to stay connected with us via social media or our website. Follow us on Facebook, Instagram, and/or Twitter @hilltopartists.